The Lower Dean River Lodge BC
Wild Steelhead Flyfishing on the Lower Dean River, British Columbia
There is no steelhead experience that equals the Dean River.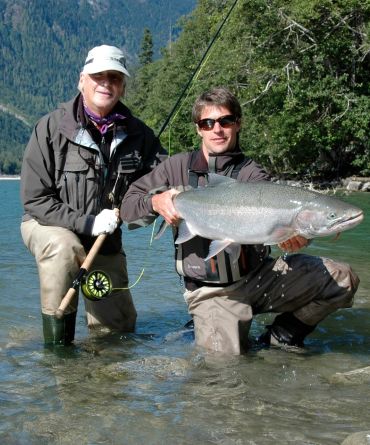 On the Dean anglers enjoy summer weather, few bugs, water temps a constant 50º, snowcapped peaks and granite rock faces in every direction, old growth forests, an unparalleled guiding and lodging experience and finally the finest summer run steelhead fishing anywhere. Dean River steelhead return in incredible numbers beginning June 20 and enter the river without stopping until the close of the season October 1. Our lodge operates for steelhead on the fly within 20 miles of the salt, so fish are blazing hot. They are often sea lice laden and as silver as ocean fish.
The Lower Dean River Lodge was originally built by Rob Stewart and Dick Blewett. In 2012, the lodge and outbuildings were literally wiped off the river by a 200 year flood. While floods are wonderful for the health of the river, they are not necessarily a great thing riverfront lodges. Thankfully we were insured.
We are proud to finally announce that the new lodge and site is finished. As someone not involved with the actual building of the new lodge and camp, I don't mind saying there has never been a lodge as nice. The Blewett family and the crew at the Dean are entirely to thank.
It is hard to imagine improving the Dean experience, but in the ten years since the change in ownership Billy and Mandi have consistently raised the bar. The food is the without question the finest I have encountered(I can say this as I am not the chef) at any fishing lodge on the planet and the lodge and facilities are hand crafted and finished. Travel to the Dean is simple and can be done in a day. We run private charters and helicopters to help insure that clients maximize their fishing time while minimizing travel time.


Our repeat booking rate on the Dean is close to 95%, but we make an effort to give everyone interested the opportunity to fish the Dean so please email or call us. We'll be happy to make sure you are able to join us. The season runs from July 1 until October 1 and despite what some might say, July and September are as fine as August.
We look forward to showing you the Dean River steelhead experience.